B & B La Quiete Luca Filippo Parravicini
Our Bed & Breakfast "La Quiete" It consists of two bedrooms with bathrooms, a common room and a spacious kitchen for breakfast. All furnished with antique original 800 or early 900, including internal fixtures and structure of the house date back to 1919.
Its location absolutely overview, overlooking the Brianza of its two lakes glacial, new skyscrapers in Milan and windy days, the Apennines by the Cisa Turchino, All surrounded by greenery and quiet, making it a pleasant and relaxing break from the stress of everyday life.
Large and comfortable, the kitchen allows you to have one breakfast in peace being able to taste the flavors of our land and tradition, immersed in the memories of the original objects of the house.
Large "balcony" on the Brianza area, equipped garden with two gazebo allows relaxing moments and the possibility to have breakfast at dawn fragrant breeze.
The courteous and reserved Maddalena service and Luca ensure a memorable stay while also providing, useful or curious about places, history and the most important cultural events, sporting and fair in our area, not to mention the many regional culinary specialties as well as typical of cuisine of lake Como and nearby Milan.
For the curious or lovers due to the small astronomical observatory, built in below the house roof, equipped with a 30 cm diameter tool, Luca ensure amazement nights observing the fascinating celestial bodies of the universe.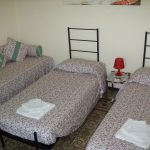 Request information about this B & B
Provenendo sulla strada provinciale 342 sia da Como (via Prealpi) che da Lecco (Viale Brianza), svoltare in direzione Albavilla Centro in Via Monte Bollettone, oltrepassata la rotonda in località "La Rosa" proseguire diritto in Via Matteotti. Raggiunta la rotatoria svoltare a destra in Via Volta, raggiunta la piazza principale del paese (piazza Roma), proseguire diritto lasciando la Chiesa alla sinistra, all'incrocio proseguire diritto in Via Patrizi, sino all'incrocio con la Via Ai Crotti. (alla vostra sinistra avrete una costruzione a forma di castello) Svoltate quindi a destra imboccando la Via Ai Crotti e proseguite diritto sino alla prima indicazione "B&B La Quiete". Poco più avanti, alla vostra destra troverete un parcheggio pubblico denominato "Cav. Farina", proseguite ancora 20 mt. troverete il cartello con indicazione "B&B La Quiete" svoltare a sinistra e proseguire sino al cancello di fronte siete arrivati!!! Suonando il citofono del B&B troverete sicuramente qualcuno lieto di accogliervi, buon soggiorno!!!!
Camera Gelsomino
Large, bright rooms, furnished with a double bed and a single from a square
Max persons: 3
Wisteria Room
Cozy and private room with two single beds and a sofa bed, by the color blue, with closet and bathroom
Max persons: 3
Price: from € 35 person / night (single occupancy € 40)
There are no offers at the moment
Map loading, please wait ...